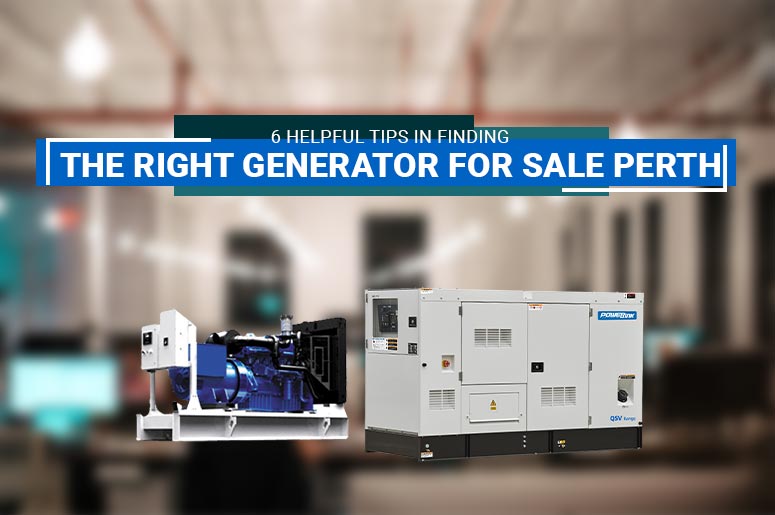 Losing power amidst a busy day in your worksite can mean a serious loss of time and money. With most businesses following a schedule for specific outputs, being unable to use the much-needed equipment and machinery could result in delays and chaos. Beyond that, employees will also be rendered unproductive and clients end up dissatisfied. This is why power outages are something every company must be ready for, no matter how rare they might be. To ensure business continuity, a standby generator can be most helpful. However, there are many options in the market and you need to buy the most suitable generator for your power needs. Here are some helpful tips to find the right generator for sale in Perth or Western Australia.
1. Determine Your Power Load Requirements
Your needs will determine the size of the commercial generator you will require. Make a list of all the equipment absolutely vital for your project and work with a trusted electrician to check your power requirement. Then, choose a generator that will be able to power up all the equipment and machinery you need.
2. Find A Reputable Generator Sales Company
With the wide variety of Industrial Power Generator Types and brands available today, it's important to find a reliable generator company that will help you pick the right generator for your power needs. Make sure you work with highly recommended professionals who understand your business' needs and offer the most suitable options. They should also be able to answer all related enquiries and provide tech and customer support for as long as you need them.
3. Check The Machine
Brand new generators are expected to be fully functional and in top working condition. However, testing will be necessary to ensure you're getting a non-defective and reliable machine. Check the generator carefully with your trusted electrician. It also helps to be present for a demo of how the machine works to avoid future problems.
4. Ask About Transport
Most generator sales companies will be responsible for the delivery of the newly purchased generator. Nevertheless, if there are additional fees for that, you might want to save some money and do it yourself. If you'll be picking up the generator you just bought, be sure you have the right vehicle for the job. You don't want to damage the machine and end up with more problems and costly expenses.
5. Follow Usage Instructions
You, or whoever will be in charge of operating the generator, should be familiar with its proper usage. You should also know and practice safety procedures around the generator. And, if you come across any difficulty, never attempt to fix the issue on your own. Call a trusted electrician or your generator company for assistance. If the machine is under warranty, you could have the defective item replaced.
6. Practice Proper Maintenance
To keep your generator in good running condition, you should assign someone to check and clean it periodically. If your main power source is usually reliable, chances are you won't be paying much attention to the state of your generator. This is dangerous because your machine might have some damages from natural wear and tear and you won't be able to use it the next time it is needed. Thus, proper maintenance will help prevent the generator from natural decline and will ensure you can count on it to supply your power when necessary.
By following the above tips on purchasing a generator, you will be able to avoid any further delays and problems in your business operations. Just be sure to work with a reliable generator sales company like Generator Hire and Services Australia. With our experienced professionals, you can be confident that all your power requirements will be met. We have a wide array of diesel generators Perth that can provide your business' power needs. Aside from generator sales, we also have several well-maintained generators you can rent for short-term projects. If you are looking for a generator for sale in Perth or need further information, browse through our website or call us today on +61 08 9359 1988.