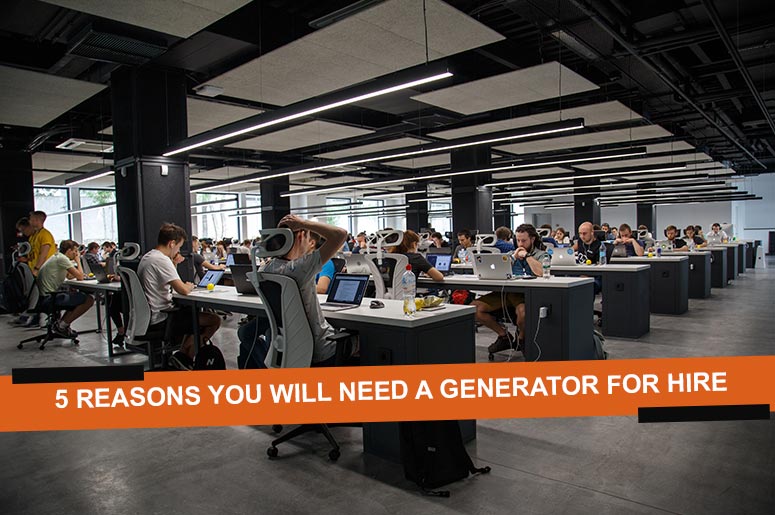 A power supply is an important commodity in the business world. You need it to run the technological and lighting systems of your facility. It also ensures that all your employees will complete their work efficiently and in a timely manner. Loss of power could bring your business operations to a halt. Each passing minute without a reliable power supply could cost you hundreds, if not thousands, of dollars. Since time means money in a business environment, you just can't afford to suspend your operations to wait for your power supply to be available. A generator hire will be your best bet at getting back to business as soon as possible. Here are the top five common reasons why most companies seek generator hire services.
1. During Power Outages
From time to time, something happens to the lines from the main power source to your facility. It could be caused by natural calamities, man-made disasters, or something else that is out of the ordinary. Whatever the cause is, you're most likely to be caught off guard. In an ideal scenario, you will have a standby working generator onsite. But, if you're not so lucky, your backup system might not be functional or insufficient for your needs. In this situation, you will need a solution to access power until the power comes back. A generator rental will help you have a temporary way of keeping your lights on and equipment running.
2. When Your Power Needs Increase
Most businesses, especially in the manufacturing industry, have a seasonal increase in production demand. As your production demands increase, so will the power that you will require. Instead of purchasing an extra generator that you won't be using often, it makes more sense to hire a generator. It can help you boost your efficiency without putting a hole in your pocket or worrying about extra generator maintenance costs.
3. To Supplement The Power Grid
In certain locations and times of the year, power consumption across an entire grid could go higher. As a result, your business experiences intermittent power interruption. This commonly happens in cold weather when everyone needs to use their heaters or hot weather when air cooling is needed. If you don't want to suffer from frequent blackouts in your facility, a rental generator will help you solve this problem.
4. Back-Up For Special Events
If you need extra Light Towers and equipment for a special occasion or a company event, it's necessary to use a back-up power supply to accommodate these needs. These extra systems could overload your normal power supply and result in unwanted power issues. A generator hire will ensure that your party will go smoothly and successfully. Most generator rental companies will also help you determine your power requirements and help you set up the appropriate generator.
5. For Off-Site Jobs
If you're doing a business project or a company event in a remote area where you will need a temporary power supply, a generator hire can cover your needs. You wouldn't have to worry about tapping into a nearby electrical source to power your much-needed equipment and have an easier and more organised setup.
If you find yourself in the above-mentioned situations, a generator hire will be your best option for your power needs. Good business management includes having a recovery plan for predictable and unpredictable power challenges. Make sure you know your power requirements and how to get rental generators before an emergency cuts your business operations.
Gen Set Hire and Sales Australia are proud to offer you generators for hire that come in different brands and sizes. We can help you identify your power requirements and provide the best generator to suit your needs. Call us today to learn more about the products and services we can offer for your company's planned and unplanned power needs.